Coach registration
ALR 453 B
Frederick William Toms is sadly no longer with us but as with all support crew was very important to the job.
Frederick Toms is British and lived in Hampshire.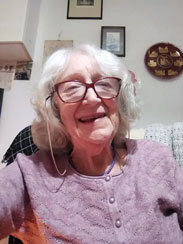 Hello film fans I am Christine Wrighton. I worked as secretary in the Production Office in Turin during the shooting of 'The Italian Job' with Kevin Kavagna from August to September 1968. Fred Toms was my boyfriend at the time, we married later on the 16th May 1970 but divorced 6th May 1975.
I was Secretary with Kevin Kavagna having worked at Pinewood Studios. I am now 76, (2021) a widow of 8 yrs no children and I live in Italy near Chiavari East of Genova, Liguria. I have been here for 42 years now my Italian husband passed away 22nd Sept 2012 aged 75. He was a Merchant Seaman born and buried in Portofino Liguria.
Christine was born in Blundellsands-and- Crosby, Liverpool on the 8th February 1945. Christine shares the same birthday with her Father.