It was in spring 1987 when Gareth decided it was time to build all three Italian Job Minis having restored the green mini 10 years previously as pictured above in 1979 complete with mock up spotbar.
This was later owned by David in 1984 who had it re-painted Tartan Red so was off to a good start so provided the build funding as well as the total convertion of the Blue and White Mini's.
With Gareth living in Reading and no plans to move back to the midlands it was the following year after the Bafta rally in 1991 that David would set up a Business called 'Ménage Motorsport' sponsored by Mr. T. Davies making and selling The Italian Job Mini kits along side vehicle maintenance & restoration.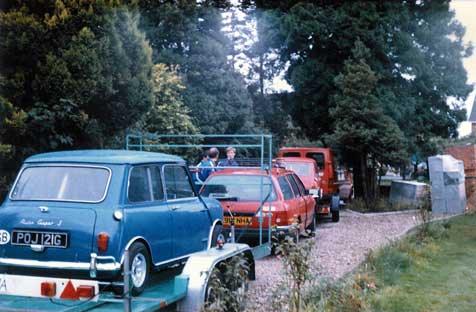 Gareth only had two weeks before the 30th Anniversary at Silverstone to turn the three cars into 'The Italian Job' Minis.
The Blue and Red minis were almost finished only requiring a weeks work to complete but the White mini had just come back from the paint shop as a bare shell not having time to do the body work ourselves.
The final two weeks were flat out, it was literately two weeks 24/7 to get the Job done.