In 1985 Gareth moved to Reading where he restored his original blue mini in his home garage, David already had his first ground up restored green mini having it re-painted tartan red which after 10 years just needed a new A panel so in the summer of 1989 when David was back from a gap year in Australia with Gareth working at Slough Skill Center, got David to trailer the Mini to Slough where Gareth was able to get it repaired as a training exercise just having to pay for materials, the colour match was not the best but we did't have time for a complete re-spray as Gareth was still doing a ground up restoration on his blue mini in his home garage complete with body work preparation ready for painting at a local paint shop in Maidenhead.
In 1974 when I was seventeen my first car was the blue mini, a 1969 Mk2 Morris Mini Cooper 998 which I used to totally restored as an Italian Job Mini replica starting in Easter 1987 and finishing on the Friday the night before the 30th Anniversary of the Mini at Silverstone in September 1989.
The red mini was originally green when Gareth stated a total ground up restored in his parents garage in 1979 complete with mock-up spot-bar he made with friend Keith Marlow as a prototype Italian job replica mini but ran out of funds so I had to sell it to my brother Daryl who a few years later sold it to my youngest brother David as his first car who's is 10 years younger than me.
Since 1981 I was constantly in scrap yards looking for Mk1 mini bits to put the three together, (very little re-manufacturing then). In 1987 I realized it was possible to make it happen but with David on a gap year in Australia I wrote to him that I had started the build of two Minis as I had savings and redundancy money my wife received now had the funds to complete the build purchasing part from Minispares, Hoppers of Bristol, Folly Mill Engineering David's school friend to make the roll cages and the spotbars from the prototype I made in 1979. David's Red Mini was the cheapest just required badges and the Italian Job mini kit.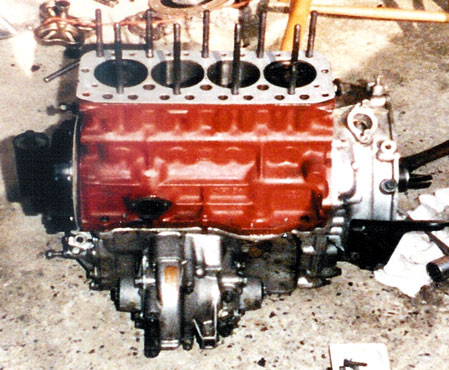 Time was flying by and I needed the white mini with just one month to go I was visiting my sister in Bristol when I spotted a white mini rusting away in a drive-way so knocking on the owners door with fingers crossed I snapped it up for £50, so a week later picked it up with my trailer then back to Balsall Common and within three hours had it stripped down ready for David to take it to John King Vehicle painter in Napton for a new front end a rear valence with complete re-spray in Old English white.
I needed the white Mini back after three weeks max which would only leave one week for the final build so with just two weeks until Silverstone I used my remaining holiday to trailer the blue mini to my parents house with my wife Allyson joining me on the Friday before the show and in the evenings my three brothers and friends chipping in after work. The build was just completed at the eleventh hour early Saturday morning the day of the show.
It was a year later after Practical Classic featured us that David started a small business making Mini kits and parts and this was when he was sponsored by the Old Man.
This first set were sold in the late 90's and the current second set were built in 2004 but these had to be original M1's in the original factory colours.
All of the Mini turbo tuning was from Gareth's Metro and Renault 5 turbo days a few years before the build making and selling jetted valves calibrated to a predetermined pressure for each model for turbo boost control kits from inside the car. The Renault 5 intercooler and carb Gareth purchased from a vehicle breaker in Loughton, London after he put his trust in an A Series turbo tuner in Surrey who made a complete mess of the block so when he was given a replacement it had the incorrect compression of an aspirate block leaving Gareth to set about building his own 1275cc engine (best for Turbo head reliability) but sold the car before getting a chance to fit it.
He also had problems with the SU carburetor so when he purchased a Renault 5 turbo realised it's carburetor would be a better option for the turbo boost increase Gareth was planning for his A Series project. The car was sold before Gareth fitted it so gave the engine £1100 back in the day) to his younger brother David who modified the bulk head to fit it in the Red Mini complete with bespoke machined inlet manifold for the Renault carb so will update this in due course.
I thank Nick Larkin from Practical Classic for the Magazine feature but not for his imaginative words. The only thing they really got right were the pictures but he was not responsible for these so as I had no editorial input had no control over the final copy so below is a brief explanation of how the three minis really came about and the funded by Gareth with his father providing teas and bacon sandwiches for the final two week build on his driveway then sponsoring David a year later in 1990 to establish a Mini kit parts business.